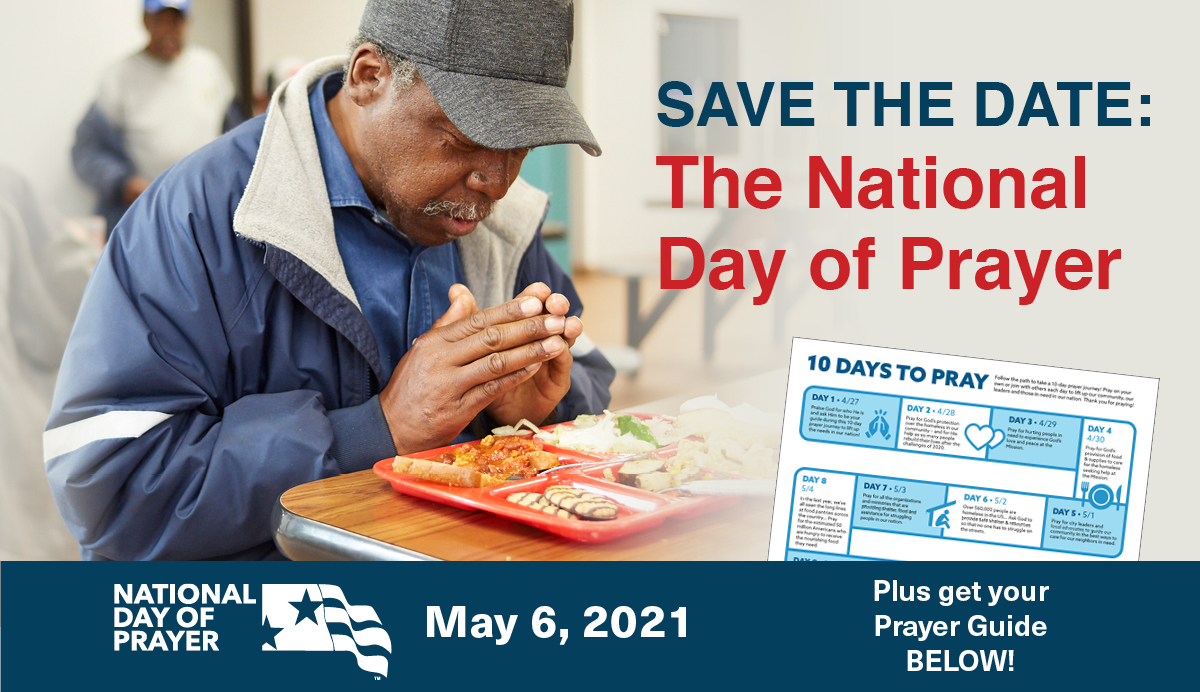 Join in prayer with others on the National Day of Prayer! Together, we'll pray for God's blessing and help for our nation, our city and our neighbors in need here in the Bay Area on May 6, 2021! 
Did you know our founding fathers called for this special day to pray? As early as 1775, people across the nation have gathered together to seek God's guidance and grace. And in 1952, President Truman signed the National Day of Prayer into law as an annual event. 
This year, we celebrate nearly 70 years of prayer for America. Be a part of this amazing legacy and start by praying today!
Pray for struggling individuals seeking help at the Bay Area Rescue Mission…
Pray for God's protection and provision of food & supplies to care for the homeless in

the Bay Area.

Pray for hurting guests to experience God's love and help at the

Rescue

Mission, especially as so many are rebuilding their lives after last year's challenges.

Pray for Rescue Mission staff serving those in need…

Bram – President/CEO
David – VP of Programs
Joanne – Manager of the Center for Women and Children
Patrick – Manager of the Center for Men
All of the Staff and Volunteers at the Bay Area Rescue Mission
Pray for our city…
Pray for God to inspire a community outpouring of generosity for homeless & hungry neighbors. 

Pray for our city leaders to guide our community in caring for those in need.

Pray for more affordable housing to become available in our city for struggling individuals & families.
Pray for our nation & needs across the country…
Pray for God to provide for those who are hungry & homeless in the US.

Pray for all the organizations, ministries and caring individuals serving those in need. 

Pray for wisdom for our nation's leaders in the decisions they're making to address homelessness & hunger in our country.
In addition to your prayers, please consider sharing a special gift now to help provide the meals, shelter and life-changing care our homeless, hungry neighbors need.
DOWNLOAD YOUR 10-DAY PRAYER GUIDE NOW! 
Prepare your heart for the National Day of Prayer! Fill out the form below to get your 10-day Prayer Guide now. Use it each day as you pray for the Rescue Mission, our city and those who are homeless locally and across the nation. Then get ready to pray with others in our community on May 6 at Bay Area Rescue Mission Chapel, 135 Macdonald Ave. in Richmond.
We take your privacy seriously and hate spam, so we'll protect your email.