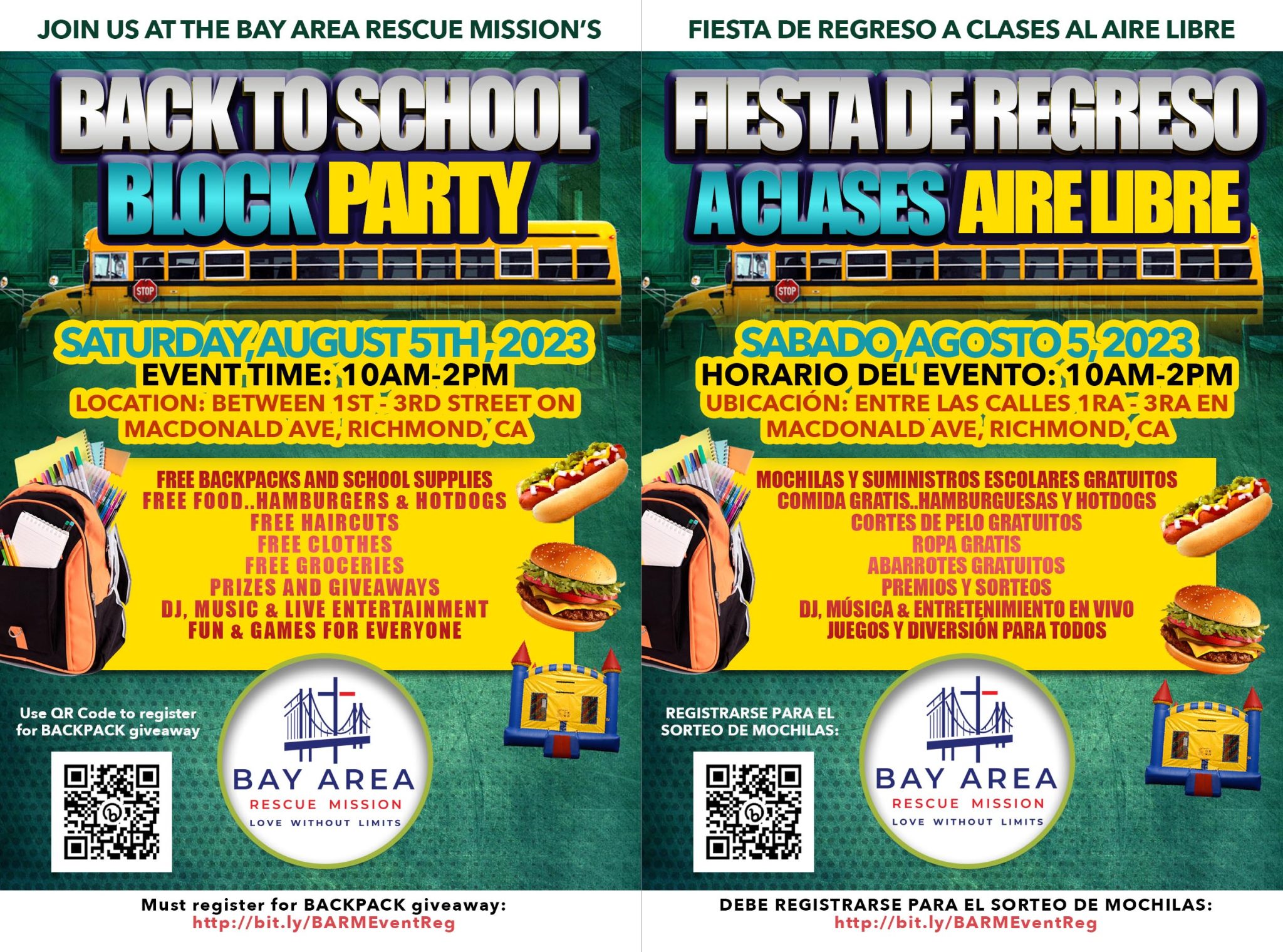 Back-to-school block party for a community in need.
1000 kids will receive free backpacks filled with school supplies. 
WHAT:
Fun-filled Block Party will give away 1000 backpacks with school supplies.
WHEN:
Saturday, August 5, 2023
10 am – 2 pm
(Best media opportunities 10 am to noon)
WHERE:
On MacDonald Ave.
between 1st and 3rd Streets
Richmond, CA
WHO:
The Bay Area Rescue Mission is a 501©(3) non-profit organization intentionally located in the heart of Richmond, California, serving impoverished men, women, and children 24 hours a day, 365 days a year. As the community's largest privately funded provider of integrated services, we offer various emergency and long-term services, including food, clothing, shelter, recovery programs, life skills and job skills training, job placement, family reconciliation, and counseling.
WHY:
Our neighborhood currently faces economic challenges, with many families living below the poverty line. The Bay Area Rescue Mission serves approximately 1.6 million meals annually to address the issue of food insecurity. The Back-to-School Block Party is integral to our commitment to filling the gap and providing essential resources and school supplies to our community.
Backpack Details:
Backpacks are for students enrolled in Pre-K to 12th grade in the West Contra Costa Unified School District for the upcoming school year. All participating children MUST BE PRE-REGISTERED to receive backpacks. Children MUST BE PRESENT at the Give Away and accompanied by an adult to receive backpacks. One backpack per child only.
PLEASE NOTE: THERE IS NO IN-PERSON ON-SITE REGISTRATION AVAILABLE.
Additional Information: 
It's a day of food, fun, and much-needed help for those in need. Macdonald Avenue between 1st and 3rd will be transformed into a party central complete with free cotton candy, popcorn, snow cones, barbeque burgers and hot dogs, bouncy jumpers, and games for the youngsters.
But, there is a serious side to all the festivities – preparing kids from struggling families for school. Thanks to Chevron's contribution, Bay Area Rescue Mission will be distributing 1000 backpacks filled with a years' worth of school supplies to our neighboring and shelter-based children. "Chevron Richmond is committed to helping our neighbors and our community grow and thrive. We believe every child should have the opportunity for a good education to get them started on a path to success, but they can't succeed in school without the proper tools. That's why we have supported the Bay Area Rescue Mission backpack giveaway for more than two decades", said Lily Rahnema, the Community Engagement Manager at Chevron Richmond.
Bay Area Rescue Mission (BARM) will also be giving free clothes, groceries, and haircuts to its struggling neighbors. In addition, representatives from various social service agencies will be on hand to provide information and referrals to other drug and alcohol treatment programs, education, insurance, and financial assistance programs. "Our neighborhood faces serious economic challenges with many families living well below the poverty line. Bay Area Rescue Mission distributed 1.6 million meals last year to help address the food insecurity issue. The Back-to-School Block Party is just another method for us to help fill the gap and make life a little easier for those individuals and families who struggle to make ends meet. We want to celebrate the importance of every child and every family, creating an environment where they can flourish," said BARM President and CEO Bram Begonia.