Antoinette was looking forward to spending the rest of her days happily settled in her home. "I'd been there for 12 years and loved it."
But when her building began to deteriorate, her landlord refused to make repairs and Antoinette called in building inspectors. They pressured the landlord to fix the problems, but she retaliated against Antoinette. "She couldn't evict me, so she used other tenants to harass me. It went on day after day."
Finally, Antoinette couldn't bear it anymore. "I left with what I could carry and what I had on my back," she says.
She was heartbroken and desperate as she made her way to the Rescue Mission. "When you get older and you have to leave your home, it does something to you, emotionally and spiritually. When I entered the Women's Discipleship Program I was hurt and angry with God."
Then she began attending Bible studies, chapel services and faith-based counseling, where she found peace in the Lord. "I feel extremely close to Him now. He's my friend," she says. "And I'm learning how to deal with life and difficult people His way, praying and leaving the rest to God."
"I've learned to never give up hope."
She's also experienced the biblical promise that God works all things together for the good of those who love Him. "After I got here, I went to the doctor and they found a cyst they had to remove. It could have ruptured, so being here may have saved my life," she says, with tears of gratitude.
Now she's looking forward to completing the program and moving into her own home, once again. "I love paying my own bills, getting my mail, cooking my own breakfast and living in peace."
Antoinette is thankful for the kindness and compassion of loving neighbors like you – and how you have given her peace and hope for the future. "I was homeless, but the Rescue Mission opened their doors to me and gave me love, compassion and hospitality. Now, I've been restored."
To read this issue of Bay Area Hope, click here.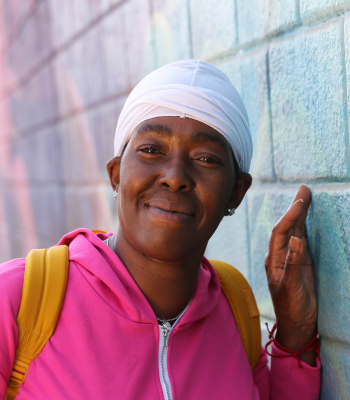 Help other people like Antoinette…
Antoinette's story of hope and healing is inspiring. Our long-term recovery programs exist to help other men and women find healing. Will you help provide this help to others?