WHEN:
Time: 9:00 am to 11:30 am
Date: Tuesday, November 21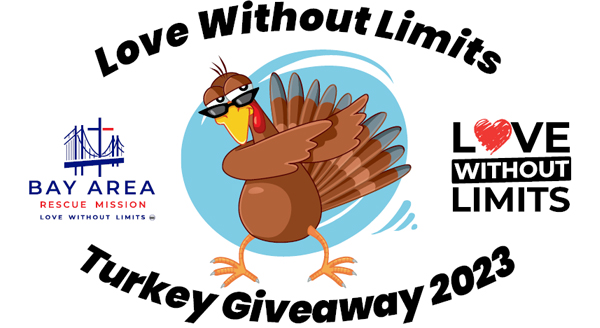 WHERE:
123 Macdonald Avenue
Richmond, California
Richmond (November 21, 2023) – Volunteers will distribute holiday dinners to impoverished families in the Iron Triangle of Richmond, California, as the Bay Area Rescue Mission (BARM) hosts its annual turkey dinner giveaway. Five hundred families will receive a 'Box of Hope' that includes a turkey, dressing, and all the fixings for a traditional holiday meal. The giveaway is only made possible through the generosity of compassionate donors.
"Our community has been hit hard by the current economic challenges. Mothers and fathers struggle to keep a roof over their heads, let alone feed their children. For many, a holiday dinner is beyond their reach—especially with the skyrocketing cost of groceries," said Bram Begonia, BARM President and CEO.
"Our goal is for families to share quality time while enjoying a delicious meal during this challenging holiday season."
Chief of the Richmond Police Department, Bisa French, praises the initiative, calling BARM "a gem in our community."
Online registration opened at 3 pm on Monday, October 30th. For verification purposes, families who register in person must show two 'proof of residency' documents, which include name and residential address. Qualifying documents include a driver's license, state ID, utility bill, automobile policy, and letter from their child's school.
The media is welcome to attend.
####
About the Bay Area Rescue Mission:
The Bay Area Rescue Mission is a 501(c)(3) non-profit organization intentionally located in the heart of Richmond, California. It serves impoverished men, women, and children 24 hours a day, 365 days per year. As a privately funded organization, it depends on the generosity and support of donors to provide integrated services to people in need. For over 58 years, its commitment and dedication to those hurting in the Bay Area remains unrelenting.